Award-winning home designer, Karen Sealy of Sealy Design chose RailBlazers Aluminum Railing System for the balcony railing of her design house project, the Pickering Project. Karen is a regular design expert on Cityline and is the host and designer of HGTV's Summer Home. Her work is featured in many magazines such as Elle Décor and the New York Times and she has won many design awards over the years.
The #PickeringProject is a complete home transformation set in Pickering, Ontario. The house has a spacious master bedroom balcony, where Karen used our railing system.
There are many things to consider when selecting and purchasing balcony railing and deck railing. Karen reveals she chose our railing system for her home renovation project because it checked off all their project requirements. RailBlazers was the perfect railing for the master balcony of this home project!
Stylish and Versatile Balcony Railing
To start, the system is stylish and looks modern. There are a variety of options including glass panels, pickets and black and white options. The system is designed to be component based so you can customize to your preference, style, location and needs.
Safe and Durable
Secondly, RailBlazers meets building codes compliance and is engineered with patented features which makes it perfect for increasing safety around your home. The railing is made from powder-coated aluminum which prevents it from rot, rust and makes it a very low maintenance system!
Save Time and Money
The railing system is budget friendly and is designed for easy DIY-installation. Also, it is readily available at Home Depot stores near you.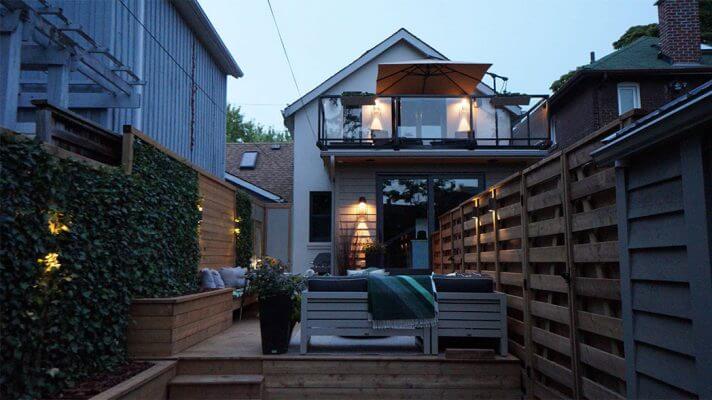 Karen's design team used black aluminum railing and large glass panels from the RailBlazers system for the master balcony of the house in order to keep the view from the upper floor master bedroom. If you're looking to add a railing system to a balcony or elevated deck, glass panels are a great option because they don't obstruct any views while giving you a very modern look. Moreover, glass panels block out strong breezes and winds which is ideal for a master bedroom balcony.
During the installation on the balcony, fascia mount brackets were used to maximize the balcony space by attaching the railing onto the outskirts (the fascia) of the balcony base. Attaching the railing posts directly to the base is also an option. Learn more about how fascia mount brackets can maximize your deck and balcony space.
Karen explains how to approach designing your master balcony and demonstrates products that are featured in the Pickering Project Master Balcony! Keep your eyes peeled to see how she's used the railing system from Peak Products, the living fences from Devron, and Scout's security systems in her reno!
Spruce up your balcony or outdoor deck area with RailBlazers. Now is the perfect time of year to start a DIY project around your home and RailBlazers is truly the perfect railing system. If you are nervous about planning or where to start, we have a number of resources available. From our knowledgeable customer service team, to our online railing designer and planning layouts- we've got you covered from the beginning to the end of your project!