Why Should I Choose Peak Aluminum Railing?
"Why should I choose aluminum railing system as opposed to other alternatives?" is a question we hear from customers often. This is a fair question given the amount of railing material options that are available out there. There are cheaper alternatives to aluminum. But "cheap" doesn't always mean it's the right material for your project.
The railing material you choose will ultimately define your outdoor space by adding an elegant look while providing safety. This is why choosing the right railing materials for your project matters.
So, why should you choose Peak Aluminum Railing? Here are 6 reasons:
Versatility
Simply beautiful and durable, Peak Aluminum Railing can be customized to suit your project and complement your personal style. Keep it elegant and timeless with standard or wide aluminum pickets. Or install our full-width or 6-inch glass panels to achieve a clean, contemporary look without obstructing that gorgeous view.
Need custom-size glass panels? Find out how to order them here.
Long-Term Safety
Railing systems are designed to keep you and your family safe, first and foremost.
We've engineered the Peak Aluminum Railing system to be safe, putting each individual component through hours of rigorous testing. This is to make sure every little detail adheres to safety standards and provide you with high-quality products that you can rely on for years to come.
Resilience and Durability
Built to last, our aluminum railing system will not rot, rust or decay and it will maintain its shape and dimension throughout extreme cold or heat.
And thanks to its powder-coat finish, the Peak Aluminum Railing system is virtually maintenance-free! It requires little to no ongoing upkeep. You won't have to worry about painting, sanding or staining it as powder-coated aluminum maintains its beautiful color and finish over time.
Easy Installation
Peak Aluminum Railing offers a simple, component-based railing solution that is quick and easy to install, saving you time and money.
Our patented railing system has 20% fewer components than competing systems to make assembly as quick as possible. Simply install posts, connect hand and base rails, then easily slide pickets and spacers into the hand and base rails and lock everything in place. Installing the Peak Aluminum Raling system really is as easy as 1-2-3.
Code Compliant
Sure, the Peak Aluminum Railing system is beautiful, simple and safe. But more importantly, it meets both residential and commercial code requirements for single family or multi-family projects.
Elegant Design and Finish
When choosing a railing system, it's important to invest in a product that is highly durable and complements your home's overall aesthetic. The simple yet elegant design of the Peak Aluminum Railing, finished in stylish Black or classic White, will complete the look of any outdoor space.
The Right Railing System for You
Peak Aluminum vs Composite
Composite can very expensive to manufacture and therefore it carries a much higher price tag compared to alternatives. On top of that, composite railings can be expensive to install and provide little to no return on investment . Composite is also known to fade over time and may be prone to sagging, scratches and other damages. Aluminum is a cheaper, more durable alternative.
Won't sag Won't fade or discolor No painting required No staining required Easy to install Low-maintenance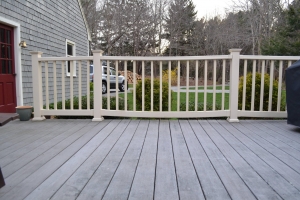 Twists and sags over time Fades and discolors Prone to scratches and damages Costly to manufacture and install Hard to install High-maintenance
Peak Aluminum vs Wood
Aluminum will not rot, rust or decay. Powder coated aluminum does not require any maintenance at all during its life cycle. Wood, on the other hand, does rot and it has to be repainted every two years. Depending on where you live, you may also need to stain wooden railings.
Won't rot Won't rust No painting required Moisture-resistant Recyclable
Spliters, cracks and twists over time Susceptible to rot, mould and decay Re-painting required every few years May need to be stained Non-recyclable Requires high maintenance
Peak Aluminum vs Vinyl
Vinyl systems are quite susceptible to extreme weather conditions. Vinyl can be severely affected by extreme temperatures, shrinking or expanding excessively. Vinyl also fades and cracks from UV radiation. Aluminum railing system maintains its shape and dimension throughout extreme cold or heat. UV rays have a minimal negative impact on powder coated aluminum, which maintains its beautiful colour and finish.
Highly durable Won't fade Won't crack or break Moisture-resistant UV-resistant Recyclable
Shrinks and expands excessively Susceptible to cracking and breaking Fades and cracks over time Non-resistant to extreme conditions Non-resistant to UV Difficult to recycle
Peak Aluminum vs Steel
Steel systems have to be repainted every few years, powder coated aluminum systems do not. As steel is much heavier than aluminum, it can be difficult to transport and handle. Aluminum provides unparalleled flexibility during installation. Anyone can use a regular miter saw to cut aluminum rails and make it fit any deck profile. Steel requires special equipment and skills to make any adjustment.
Won't corrodeNo painting required Moisture-resistant Flexible Easy to handle No special tools or skills required to cut
Re-painting required every few years Susceptible to corrosion Discolours over time Heavy and difficult to transport Special tools and skills required to cut
The Peak Advantage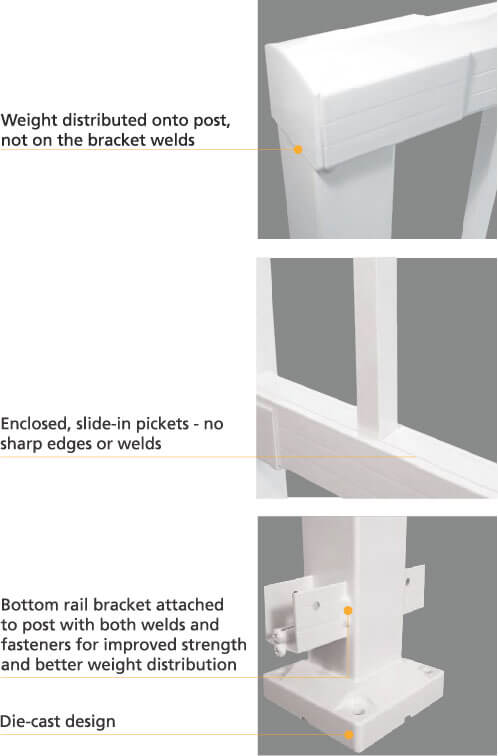 Installation Made Easy
Save time and money with this very easy to assemble and customize, component-based railing system. Simply install Posts, connect Hand and Base Rails and easily slide Pickets and Spacers into the Hand and Base Rails and lock in place. Can be mounted on various surfaces: wood, composite and concrete, and directly to walls, existing posts or columns.
Installation Guides and Videos
Ready to install? Watch our detailed installation videos or use our step-by-step installation guide! We will walk you through the installation process from beginning to end.
Watch Installation Videos
View Installation Guides
Hear what our customers are saying about our products.
Rated by over 400+ customers on homedepot.com